Lunch Detentions
Lunch detentions will be given out to students that are missing assignments. Students will be issued a lunch detention pass the day of their detention. This pass allows the student to skip to the front of the hot lunch line so they do not miss valuable time to work on the missing assignment.

If the assignment is not finished they must attend lunch detention the following day or until the missing assignment is complete. They can take the assignment home to complete before the next day to avoid getting the second day of detention. If you have any questions regarding this policy, please let me know.
---
Past Announcements
Powered by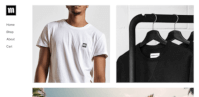 Create your own unique website with customizable templates.
Photo used under Creative Commons from NASA Goddard Photo and Video